School Office Clear Prevent Protection Guard Used Acrylic Protective Barrier Table Guard Sneeze Guard
Advantages:
1.Setup a barrier from others quickly and easily with our premium acrylic sneeze guard.
2.Our premium Sneeze Guard features top quality acrylic to help give your business a premium impression while helping provide an elegant barrier for you and your employees.
3.Perfect for locations such as cashier counters,nail salon tables,countertops,and desks.
| | |
| --- | --- |
| Product name | Table Guard Sneeze Guard |
| Material | PC/PS/Acrylic |
| Color | Transparent |
| Function | Sneeze guard |
| Thickness | 4-6mm |
| Logo | Availavble |
| Application | Home/store/bank/supermarket |
| Packing | PE Film Wrapping/Craft paper |
| Type | Partition |
| Certificate | GIG/CE/ROHS |
Product Description
Protective transparent clear office partition counter shield texi driver protection shield acrylic sneeze guard

-Made from durable 4mm Clear Cast Acrylic
-To see other designs and sizes please check our other publications.
-Care: Clean using non-abrasive soft cloths, mild soap and warm water.
Material: Transparent acrylic, transparent PVC sheet, transparent PET
Install a acrylic sneeze guard in each position to provide a safe protection for your customers or employees.
In order to prevent the spread of droplets and other environmental pollution, Protection Sneeze Guard can create space for people to protect people from the spread of viruses.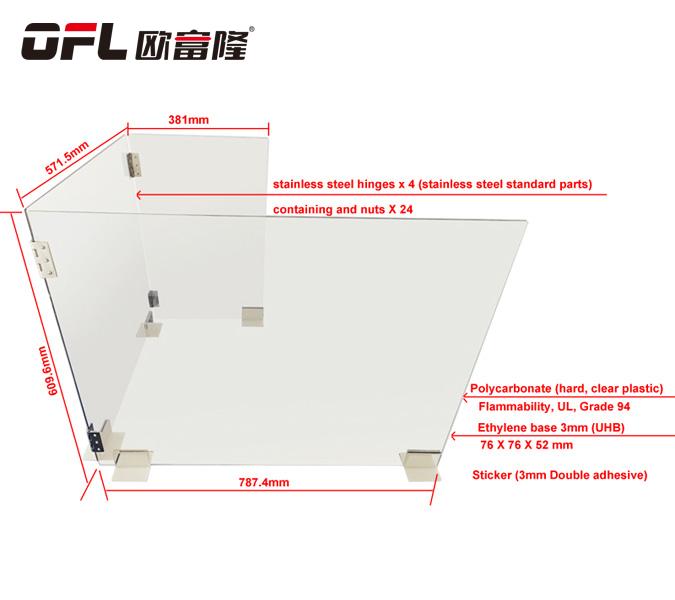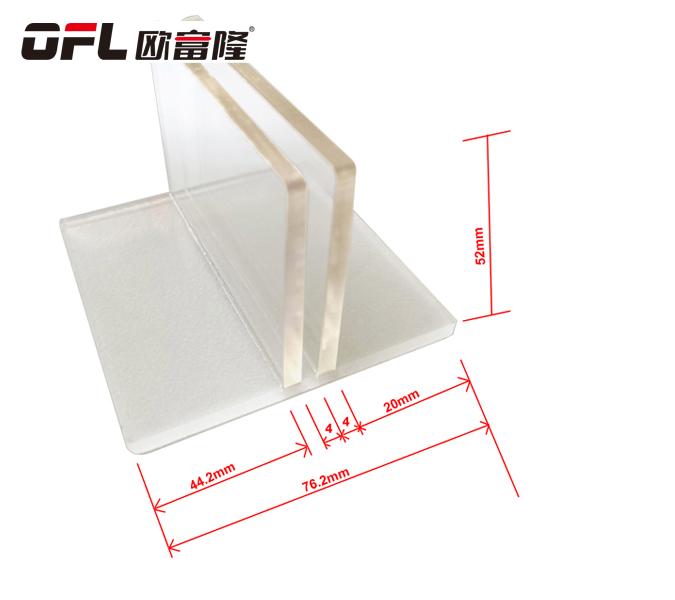 Corporate strength
1.OFL Has a strong R & D and service team, can more open to assist customers to develop products and provide excellent after-sales service.
2.The largest production capacity and the most stringent inspection in the industry.
3.The leading supplier in the field of automatic shelf subdivision in China.
4.We have more than 70% of the market for Roller Shelf products.
Our product covers more than 50,000 retail stores.
Certificate of Honor
There are more than 90 patents for invention, utility and appearance. (Including US and Europe)
CE、NSF、RoHS、IOS9001, etc.
FAQ
Q:What is the minimum purchase quantity?
A:Munimum order 100pcs.
Q:What sizes do you have?
A:This is a customized product,which can be made in any size.The error of the length and width between the actual product and your requirement is less than 10mm.
Q:How long is the delivery time of the product?
A:Depending on the order quantity,the first batch of products will be delivered in 10-20 days.The deliver time of subsequent orders will be shortened to 7-14 days.
Q:Does this product need to turn on and off the lights by itself?
A:Don't need.Because its light is controlled by the circuit board,it will automatically turn on and off the according to the factory Settings.
Q:Can this product be used on a horizontal plane?
A:Sure. We can add a base for you, so that the product itself has a tilt,sliding function.
Q:What goods is this product suitable for?
A:Any product that weighs more than 50g and has a flat bottom of the package can be used.